Here you will find links to our Latest Sermon Podcast. Keep up to date with talks you have missed, delve into one of our previous series, or re-listen to your favourite talk. Subscribe to this podcast using your choice of Podcast hosting platforms.
Latest Sermon Podcast
New Wine – Are you ready?
In this first in our new series 'New Wine' – Jamie asks 'Are You Ready?' Are we ready to change the way we do things to make room for God to bring the harvest? As Jesus said in Luke 5 'No one pours new wine into old wineskins'. Jesus brought the new wine of the kingdom and the religious leaders were unable to accept His message because they were trapped by their inflexibility. God wants to bring renewal to His church and revival to our city and nation. Are we willing to change, or do we expect Him to move according to our plans? The change starts by knowing God and seeking His presence and allowing Him to fill us again by the new wine of the kingdom. 
Latest Sermon Podcast (most recent episode at the top)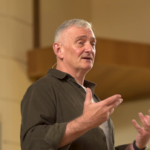 New Wine - Are you ready?

Sep 23, 2023 • 41:08

Here you will find links to our Latest Sermon Podcast. Keep up to date with talks you have missed, delve into one […]

Life in the Spirit - Normalising Deliverance

Sep 22, 2023 • 42:48

Here you will find links to our Latest Sermon Podcast. Keep up to date with talks you have missed, delve into one […]

Life in the Spirit - Supernatural Hope

Sep 8, 2023 • 30:00

Here you will find links to our Latest Sermon Podcast. Keep up to date with talks you have missed, delve into one […]

The Armour of God

Aug 30, 2023 • 38:23

Here you will find links to our Latest Sermon Podcast. Keep up to date with talks you have missed, delve into one […]

Spiritual Warfare

Aug 25, 2023 • 35:59

Here you will find links to our Latest Sermon Podcast. Keep up to date with talks you have missed, delve into one […]

Back to School

Aug 17, 2023 • 17:29

Here you will find links to our Latest Sermon Podcast. Keep up to date with talks you have missed, delve into one […]

Life in the Spirit - Faithfulness

Aug 12, 2023 • 35:47

Here you will find links to our Latest Sermon Podcast. Keep up to date with talks you have missed, delve into one […]

Hope and Intimacy

Aug 4, 2023 • 31:44

Here you will find links to our Latest Sermon Podcast. Keep up to date with talks you have missed, delve into one […]

Life in the Spirit - Self Control

Jul 26, 2023 • 25:36

Here you will find links to our Latest Sermon Podcast. Keep up to date with talks you have missed, delve into one […]

Life in the Spirit - Goodness

Jul 12, 2023 • 29:13

Here you will find links to our Latest Sermon Podcast. Keep up to date with talks you have missed, delve into one […]