What does it look like to be a student at Glasgow Vineyard?
If you are a student looking to find your place in church then we would love to welcome you. Whether you've never set foot in a church or have been a Christian your whole life, we would love to connect with you!
We think that God really is the best news. That living for him is the best and most fulfilling way to live. That's why we want to help students learn more about who Jesus is, why that matters for us and how we can follow him faithfully throughout uni and beyond. If you'd like to make friends with other students, grow in your faith and be a part of Glasgow Vineyard we would love to welcome you! Why not make church a key part of your uni experience? What might God do as we journey with him in the day to day? If you have questions or want to just meet up with someone before joining our student community then drop our student pastor Barnaby an email (barnaby.simpkin@glasgowvineyard.org).
We have a bunch of connection points that you can get involved with:-
Freshers 2023:
Welcome to the new academic year and if you are new to Glasgow then an extra warm welcome. GV students is starting up again after our summer break with a number of different events happening. While things are ramping up in the coming weeks we always want to welcome you at our Sunday morning service at Notre Dame High School. Some of the team are on hand to welcome you from 1030 with coffee and donuts and for the next few weeks of term we will be hosting lunches after the service to let you meet some current student and get to know a bit more about what church life is like at GV.
We will be properly starting our student and young adult programme with gathering on Sunday 24th September at 6:00pm. Whether you are a returning student or you have never been to GV before, everyone is welcome! We will have dinner together (provided), spend some time in worship and then talk through what the year at GV students is going to look like. If you have any questions, dietary requirements or just want to be in touch before the event then drop Barnaby an email.
Student Small Groups: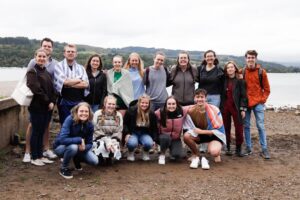 We have a number of student led small groups that meet in the week across the city. These are spaces that are most important for plugging in with student life at church, you can be seen, known and loved best in small group community. By eating together, reading the word, worshipping and praying for one another we seek to be discipled and grow in God's love and call on our lives. We also want this to be a place where we invite others to come and see what it means to be a Christian so authentically living out our faith together and boldly inviting others to join is foundational to what small group means. If you want to join a small group then get in touch with Barnaby or speak to another student leader to see where you can plug in.
Socials and Mission: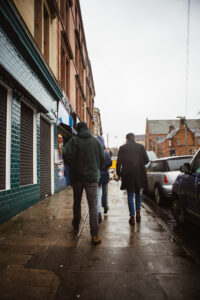 Throughout the term we have a bunch of social and missional events that will be taking place. For us, sharing Jesus, living justly and having fun together are important values. These events will pop up as and when they are happening. So, get excited for those!
Connecting in: 
If you want to connect but aren't sure how to, have some questions or would rather meet someone one-to-one first then send Barnaby an email or a DM on instagram (@glasgowvineyardstudents) and he can connect you to one of the student team for a coffee!
Barnaby oversees the student ministry at Glasgow Vineyard and you can contact him via:
Barnaby.simpkin@glasgowvineyard.org